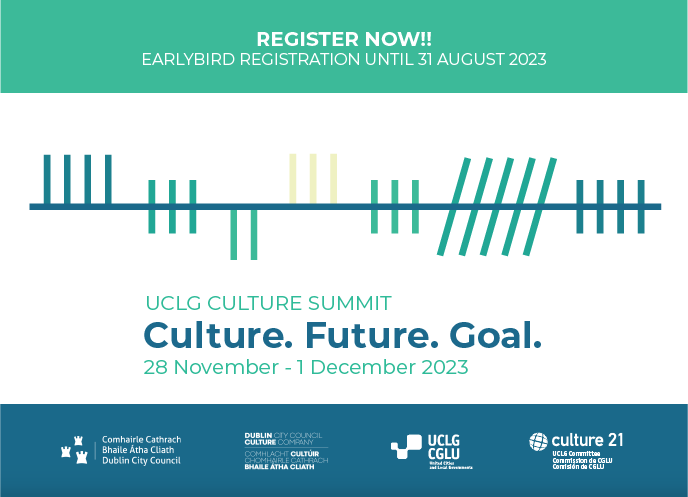 DUBLIN TO HOST THE UCLG CULTURE SUMMIT IN 2023: SAVE THE DATES!
On Thursday 12 October 2022, in the context on the 7th UCLG World Congress held in Daejeon, Republic of Korea (10-14 October 2022), the UCLG Executive Bureau announced that Dublin, Ireland, had been chosen as the host city of the next UCLG Culture Summit, to be held from 28 November to 1 December 2023. Dublin has won an international call, based on the Terms of Reference for the 5th UCLG Culture Summit.
The Summit will emphasise that culture is an integral part of sustainable cities, and promote the sharing of experiences and innovations from cities across the world. The programme of the Summit will ensure that special attention will be paid to the relation between cultural policies and the climate emergency, the connection between culture and gender equality; as well as the role that cultural rights play in addressing the growing inequalities in our societies. The Summit will discuss the "Culture Goal" proposal, championed by the #culture2030goal global campaign, and included in the final declaration of UNESCO's Mondiacult 2022 Conference held in Mexico City on last 28-30 September 2022.

Dublin is the perfect host of the Summit. Dublin has demonstrated its ongoing commitment to being an active and visible part of a global movement working to ensure human rights, cultural diversity, sustainability and participatory democracy, placing culture at the heart of development. For Dublin to host this Summit will be a major boost for all those involved in cultural work and local government across the city, not only to feel part of a worldwide movement but in creating a lasting legacy for citizens and local partners. It will give international visibility to the city and offer the possibility for participants to discover the cultural assets of the city.
REGISTER HERE
Read the background document here and the full Press Release here.
Read the speech delivered by Dublin's Councillor Cat O'Driscoll at the 2023 UCLG Retreat & Campus here.